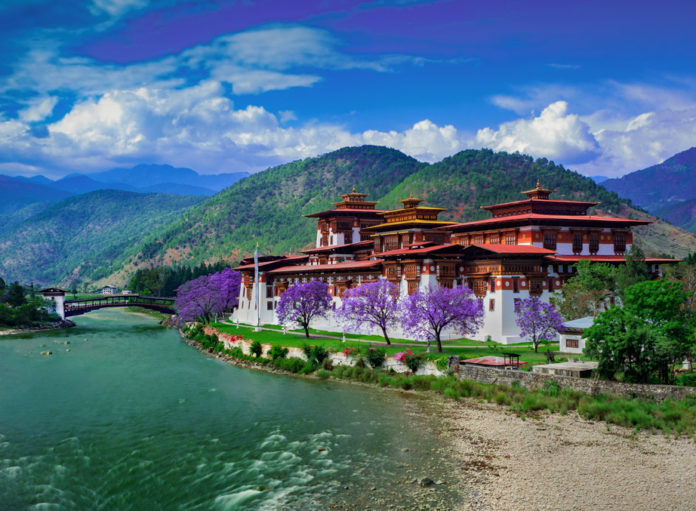 The Kingdom Of Bhutan
Bhutan is also known as the Kingdom of Bhutan, is a small landlocked country. Bhutan is situated on the Eastern side of the Himalayas. People living in Bhutan are followers of Mahayana Buddhism. One can find various Buddhist monasteries and stupas in Bhutan. Bhutan is a beautiful place with serene and picturesque views and magnificent monasteries. If you are to travel to Paro, Bhutan, this article can be your Bhutan travel guide.
Some Facts About Bhutan
There are some unique facts about Bhutan, knowing which will make you spellbound:
 Bhutan has constitutional obligations on its citizens according to which they need to protect the environment. According to this obligation, 60% of the country has to stay covered with forest. Bhutan is the first country in the world to do so. And this makes Bhutan unique.
It is the only nation to ban the sale of tobacco in the world.
It introduced television and the internet to its people only a decade ago.
The black-necked crane is highly endangered. It is also very sacred for the people living there. Therefore if anyone is found guilty of killing it, they can have life imprisonment.
The capital of Bhutan is Thimphu. It does not have any traffic lights. They have only traffic officers.
There are many other unique facts about Bhutan that makes a visit to Bhutan more indispensable
Traveling Bhutan From Singapore?
Traveling to Bhutan from Singapore is not at all complicated. But first, you need to get a visa. And if you want to do trekking, you will need permission from the RST department. There are direct flights from Singapore to Bhutan. Two Bhutanese airlines work there- Druk Air and Bhutan Airlines. In Bhutan, there is only one international airport at Paro. It is a small airport.  
Best Tourist Attraction Places In Paro
Paro is a fascinating small town in Bhutan. There are several places to visit in this small town. You can also enjoy a lot of activities like trekking and rafting here.
Following Are The List Of Places You Can Visit And The Things That You Can Do In Paro:
A Visit To Kyichu Lhakhang-

 It's a 7th-century Buddhist temple. The temple contains some beautiful statues, murals, and prayer wheels. The place is tranquil. There are some orange trees behind the temple. You can meditate in this peaceful place surrounded by mountains on all sides.
Visit The National Museum Of Bhutan- 

The National Museum of Bhutan built-in, 1968, is situated in the Ta-dzong building. The museum has beautiful ancient artworks and bronze statues. And various paintings of the old days.
Shop At Paro Craft Market-

 When people travel to a new country, they bring back souvenirs. The craft market at Paro is the best place to buy genuine Bhutanese textiles and handicrafts. You can purchase various paintings and wood carvings, sculptures to decorate your home. You can also buy silver and gold jewelry, beaded chains, bangles, woolen clothes, other articles of handicrafts, etc.
Trek To Tiger's Nest-

 A trek to Tiger's Nest or Paro Taktsang is one of the best things to do in Paro if you like an adventure. It's a Buddhist monastery located on the cliffside. The road to the monastery is very steep. It takes 1.5 to 2 hours to reach the top. The view from the top is marvelous. You can enjoy the scenic beauty and click some amazing photos.
 The Snowman Trek- 

One of the most arduous treks that begin in Paro is the Snowman Trek. It leads to the highest peaks of the Himalayas. You need to cross four passes to reach the top. The trek takes around 27- 28 days to complete. The best time to go for this trek is around September to October. The views from the top are splendid and breathtaking. It's the most adventurous thing that you can do in Paro.
Try The Local Cuisine- 

When you go to a new country, you try to explore their culture, lifestyle, and cooking. The street food in Pro is very delicious. One should try the local cuisine of Paro. Like, Ema Datshi is a preparation of stew with cheese and chilies. Apart from that the momos, red-rice, Jasha MAroo or spicy chicken. If you like pork, definitely try Phaksha Paa.
Biking Tour-

 If you love biking adventures, you can enjoy that in Paro from Ta Dzong to Khasadrapchu via Jemina.
Rafting-

 You can also enjoy rafting in the Paro Chhu river. You can end your rafting journey at the confluence of the Paro-Thimphu river at the Chuzom village. Otherwise, if you are daring enough can go further to river Wang.
Kayaking

– Paro is full of adventurous sports. If you have good experience in Kayaking, you should not miss doing it in the Paro Chhu river. While Kayaking you can pass several tourist places.
Cross The Old Iron Bridge-

 Tachogang Lhakhang is the first bridge built in Bhutan. It is 600 years old. If you are daring enough, you can cross this hanging bridge and reach a temple on the other side. You can get marvelous views of the Paro Chhu river and its surroundings.
Paro Airport Bird's Eye Point-

 If you plan to visit Paro, you should include this in your itinerary. You can get a splendid view of the beautiful town of Paro surrounded by mountains.
Campaigning- 

Enjoy campaigning at Bumdra, located at 3,800 meters above sea level below Bumdra monastery. You can enjoy the traditional campaign experience. Visit the monastery and enjoy the view of Paro from such a high altitude.
Conclusion
Paro is full of adventure and the best tourist attraction spots. These are some of the things that you can do in Paro. Apart from these, you can enjoy cultural festivals and the Bhutanese folk dance at the festival grounds. You can also go on a drive 2 to 3 hours to Chele la pass.
A trip to Paro, Bhutan can be very refreshing. The serene beauty of the place and happy Bhutanese people can make your trip a memorable one.